Diveboard update: Species picker and Internet Explorer
This week on Diveboard we bring you one new experimental feature that has been long awaited : the (proper) species picker.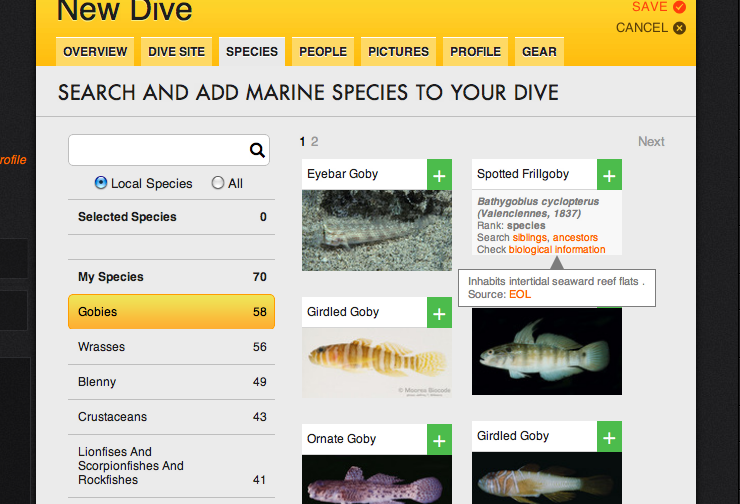 It works in a very simple way : it's basically a dynamically generated species identification card. If you have selected a dive spot in your dive editor, the species picker will get populated with the "local species" list from our occurrence database. That database has 50M entries and so it should be plenty enough to most cases, be we know that some areas have been less explored than others or that scientists may have focused more on certain species than others when surveying areas. Thus if the species you're looking for is missing, simply switch context and browse the entire database. In that case you may find the search engine handy.

 

If you found a species that matches but you're unsure it's really the actual one, hover on its picture and click "siblings" and try and find the one you actually spotted. Still unsure ? Hit "ancestors" and select the parent element in the classification.

 

Once you've narrowed down your choice, hit the green button and the species will go into the "selected species" tab. Note the "My Species" tab that list all the species you've ever encountered - that way if you often dive the same place or meet a species you know you already tagged once, this will make your journey easier.

 

All the selected species will be available to tag  your media in the pictures pane. Simply head to the pictures pane, hit "Comment and Tag" and select "Tag Species" near the picture you want to tag and a popup will prompt you with the list of species selected during your dive.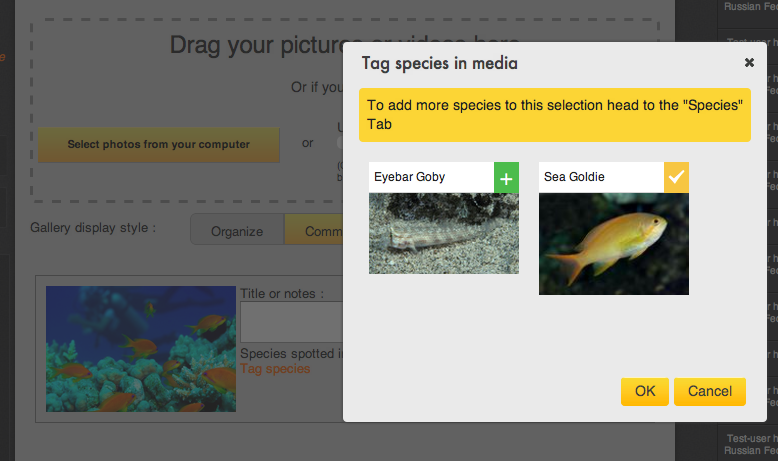 Finally, the selected pictures have now their own tab in your dive logbok with a bigger picture and description from EOL.org

 

What's next ? We'll be working hard in the next weeks to ensure that pictures for each species are really helpful in recognizing them (and ideally available at higher resolution) and we'll ensure that your species pick get back in the occurrence database to help other divers diving in the same areas get an even more relevant selection to pick from (note: if you opted-in, your observation data are already shared on the iobis and gbif network, so technically they will get back at some point in the occurrence database... we'll just ensure that we make it faster).
We also plan to add the species picker to the lightbox so you can tag species on pictures as you browse !

 

Also new this week : Internet Explorer got a special treatment! We spent a lot of time making Diveboard behave better on IE6, 7, and 8, so if you're using those (old and crappy) browsers, hopefully you noticed the change already. We know many of you are just stuck with those so we felt we had to try and get you all on a same pace... let us know how it's working out !

 
Share your experiences, thoughts, or ask a question
WRITE A POST
Join Diveboard
B

Community Feed

Community blog posts rRSS feed